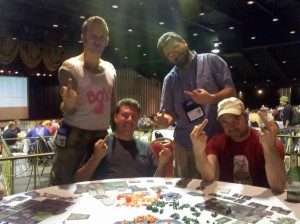 Two years ago I posted a thing about how I suck at vacations. I wrote it right after the family and I got back from an awesome trip to Disneyworld. Well, pretty much everything in that post is still true, and that's why I'm writing this post today.
You see, I'm technically on vacation right now. Two days ago I drove 12 hours north to Lancaster, Pennsylvania, to attend the World Boardgaming Championships. While I'm here doing what I LOVE doing, the kids and my wife are headed to the beach (we don't actually have time this busy summer to vacation together - don't say anything; we know it's fucked up). I may or may not join them when I head back south - depends on how I feel. You know what I mean: it depends on whether I'm completely exhausted or not.
I'm having a fucking blast. I'm drinking great beer all day long that I bought from my buddy Eddie's Ale Yeah! shop in Roswell, and I'm playing Twilight Imperium and a whole host of other games with Michael Buccheri, Matt Loter, Josh Look, Shellie and Al Rose, Bernie Frick, Wilson Knight, Rob Buccheri, Andy Waller, and a whole bunch of other people (you can see a few of them in the picture at the top.
Still, right this minute, I'm sitting at a Starbucks down the street from the host hotel, parked in front of my computer and logging time BECAUSE IF I DON'T DO THIS NOW I'll be stressed out the rest of the week, beer and games and friends be damned. That's how I am. I can't help it. And it's funny that all I have to do is write a short bit about writing a short bit, and I feel better.
There. I feel better.