All over the world, there are places that - for certain people - are simply magical. And I'm not talking about places like Mecca, or Ground Zero, or the Taj Mahal. Sure, those places are places of power, but EVERYBODY recognizes the magic or power or holiness contained there. I'm talking about places that only a few people, who share a common experience or common passion, recognize. Something about the intimacy of that recognition makes this type of place even more special, and only special to a select few.
Last weekend I visited such a place.
If you're unfamiliar with The Dark Tower series by Stephen King, then when you're walking down 2nd Avenue in New York City and you pass the intersection of 2nd and 46th Street, you probably don't even blink. To the unknowing eye, it looks like countless other intersections in Manhattan. But to me and a few other people in the world, we know that in the building located in the northeast corner of the intersection - 2 Hammerskjold Plaza - there is a certain Rose. And across the street, in the little park located there, there is a statue of a turtle - a turtle whose "thought is slow but always kind. He holds us all within his mind."
When I was a kid, I plowed through Stephen King's novels like candy. He, J.R.R. Tolkien, Mark Twain, and Flannery O'Connor were my heroes. When I started writing, I wrote like him  - as much as a teenager can emulate greatness.
And then, right about the time I started college and he published Tommyknockers, I abandoned Stephen King. Something about the books he wrote from then up until the publication of Wizard and Glass in 1997 just didn't appeal to me. Even now - as I defend him to anyone who challenges his power and impact as a writer - I still reserve the caveat that I don't like the things he produced for that 10 year period of his career. In fact, I despise Gerald's Game. Not as much as I despise The Da Vinci Code or fucking Silas Marner. But still….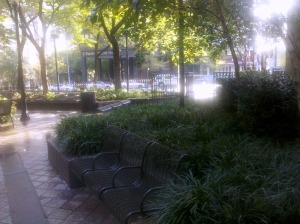 When Wizard and Glass, which is Book Four of The Dark Tower, was published, I hadn't read any of the series, which he claims is his magnum opus. I have now. I've read all of it, all the way through books One through Seven. I've read them multiple times. I will say with no hesitation that The Dark Tower deserves a place on every fantasy reader's shelf right alongside Tolkien, Zelazney, and le Guin. I am not ashamed to say that Stephen King has returned as a major influence in my life and my career as a writer.
The Rose is fictional. It doesn't really exist inside of 2 Hammerskjold Plaza. There is no statue of a turtle in the park across the street. But that doesn't mean that when I passed through the intersection there that I didn't hear a quiet thrum of power coursing through the air, and that I didn't feel a certain unquantifiable elation.
Because I did.