Feb 5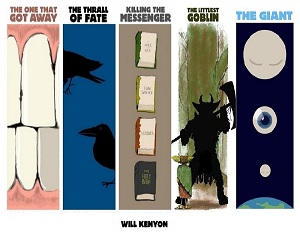 As many of you know, in 2011 I self-published a couple of stories, just to see what would happen. I did it strictly eBook, because eBooks cost nothing except time to produce, and reading books on electronic devices is becoming more and more ubiquitous every year. Soon we'll all have eBooks, and "real" books will be to publishing what vinyl is to recorded music.
Anyway, "what happened" was a I sold a respectable amount of copies - enough to encourage me to do it again, and enough to encourage a small publishing company, Hallowed Waste Press, to throw in with me. About six months later we published another, slightly larger set of stories, and over time that small collection sold about as well as the first.
Sometime last fall, I found out about a document-sharing web site called Scribd.com. And yeah, Scribd has been around a couple of years and for someone who's supposedly as aware of places like Scribd as I am, I was a total idiot for not looking at them earlier. They came to my attention because I was looking for a good place to put teasers up for my upcoming novel, and maybe for my existing stories as well. The guys over at Hallowed Waste said they were going to use the site to tease a story from a new writer they'd just contracted with, and suggested it to me.
I figured why not, and on December 13th put up a free copy of one of my self-published stories, 'The Littlest Goblin'. I tweeted that I'd done so, put a link up on Facebook, and then went and enjoyed my holidays.
When I came back a few days after Christmas, I discovered that 'The Littlest Goblin' had almost 15,000 reads! Curious as to the impact 15,000 free reads on Scribd had on my performance at Amazon and Barnes & Noble, I immediately went over to my reports pages there and saw that indeed, my stories had picked up steam again.
I mean, think about it: the typical literary magazine in America has an average circulation of 1000 to 5000 readers. A "no name" writer like me MIGHT get paid anything from contributor's copies (effectively, nada) to MAYBE $200 for a story, and that story will be seen by 1000 to 5000 people. 'The Littlest Goblin' has already made me around $50 by itself, AND has now supposedly been seen by 15,000 people (actually, though new reads have fallen off, as of today I'm up to 17,000).
To follow up that momentum, I posted another story, 'The Thrall of Fate', my homage to Edgar Allan Poe. Over the last month, though 'Thrall' didn't hit as hard as 'Goblin', it's still garnered 2700 reads, which is still formidable, considering the comparative exposure short stories get.
And to follow up THAT momentum (and maybe cash in, because it's possible), I took both collections that I had previously published and whose sales momentum on Amazon and other sites had slacked, added another previously published story called 'Galahad's Message', and posted all six stories as one collection in Scribd.com's store. Sales of that larger collection have already begun to trickle in, and the number of people sampling it is already pretty impressive.
Ultimately, what I'm trying to say with this post is that I think Scribd.com is an awesome tool for hard-working writers who are willing to take a few risks. The chance of exposure is there if you have something attractive enough to get noticed (which it appears with 'The Littlest Goblin" I did). I'm not saying it's the end all and be all, but it looks pretty good from where I'm sitting.
I'm also saying that 17,000 people can't be wrong: there's probably something worthwhile on Scribd.com written by a certain writer we're all familiar with that MIGHT, just MAYBE, be worth looking into.