Oct 31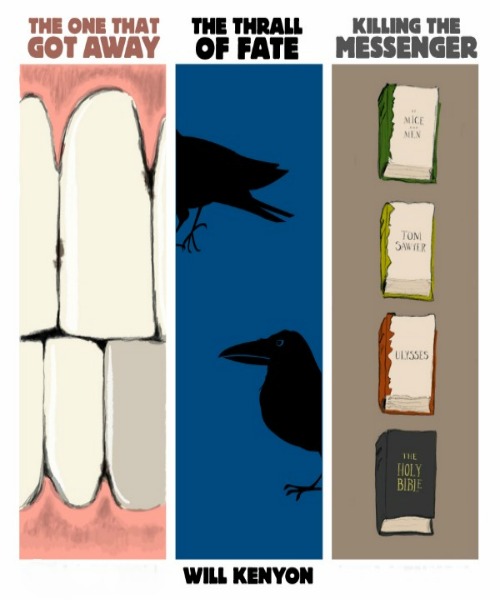 A very scary Halloween was the target with the latest bunch of stories by yours truly, and it happened. Allow me to present three stories that I hope will send a chill down your spine and make your hairs stand on end. As of right now, the Kindle and Smashwords versions are available. Links to the points of sale for both versions are below. If you want, just click away and you'll be off to Amazon.com or Smashwords.com, where you can buy the bundle for a mere .99 cents.
Last time around I only gave you two stories, at roughly 8000 words total. This time around, when you buy you get THREE stories, clocking in at closer to 20,000 words. That's almost a novella, and it's still just .99 cents.
Although all three stories are technically horror, they're all very different in tone and style. They have a few things in common besides their genre: each focuses at least in some degree on the relationship between two male "buddies", each features precocious children (not unlike tiny Emys from The Littlest Goblin), and all of them have open-ended finales which ask you, the reader, to fill in the blanks using your imagination and the clues I've provided.
The first story is called The One That Got Away. It opens in my favorite bar, The East Point Corner Tavern, where Evan Craddock is drinking himself silly AGAIN, accompanied by his good friend Stan. Evan's a divorcé with a four-year-old daughter and a whole shitload of baggage. His little girl's at his mom's so that he can go out drinking, and he's making the most of it. He's about to enjoy his next drink, when Stan grabs him by the arm and points out this gorgeous woman who's just walked into the bar. Coincidentally, Evan knows the woman - she's a long lost love from his college days - and she's actually in the bar to find him. But her intentions are less than… altruistic.
According to history, Edgar Allan Poe was born on January 19, 1809. But WAS he? In my retelling of history, called The Thrall of Fate, Poe is actually born in 2009, knowing already the ultimate fate of the famous writer who died in a gutter in 1849. A series of events sends Poe backwards in time, where he assumes the role of his namesake - although he's determined not to suffer the same fate that the original Poe did.
In Killing The Messenger, someone's trying to tell 10-year-old Chuck Ballantine something. But what's the message? And why Chuck? And what's the mysterious force which keeps intercepting the messengers over and over again? There are scenes and some heavy-handed allegory in Messenger which I'm sure will piss some people off. And you know what? I'm fine with that.
So there you go. Hopefully, I've intrigued you, and NOW you're going to click on the links below, run off, and buy them.
Thanks and Happy Halloween!
The One That Got Away & More at Amazon.com (Kindle)
The One That Got Away & More at Smashwords.com (PDF, HTML, other versions)
Oct 24
"They're coming to get you, Barbara."
For the uninitiated, that's a quote from the beginning of Night of the Living Dead. But I'm not talking about zombies coming to get you, or coming to get Barbara either. I'm gonna let Robert Kirkman and Max Brooks bring the zombies to the masses for the time being.
What's coming from me to get you is three scary stories, soon to be available on your closest haunted Kindle, Nook, iPad, or computer. They have a few things in common - like the simple fact that they're all horror stories - but otherwise they're all very different. I announced them a few weeks ago, in the hopes that the finished products would be available by Halloween, and, well, I'm on track. Unless something unexpected like a zombie holocaust occurs between now and then, I'll be able to tell you next Monday to go get them.
Just as with The Giant/The Littlest Goblin package I got published last May, they're only .99 cents and only available as an eBook. This time, though, you're getting a lot more bang for your buck: there's THREE stories, and they're generally longer than the first two.
Without revealing too much, here's a little bit about each of the new stories.
The One That Got Away is a bit of horror/comedy - something along the lines of Stephen King's first Creepshow or Tales from the Crypt. I got the idea several years ago when I heard that a girl I'd hooked up with a couple of times in college had died really young from some rare and vicious cancer. I know, I know - that's not funny - and neither is the ultimate ending of the story. But as I wrote the initial scenes (which coincidentally take place in my favorite bar The East Point Corner Tavern), I had my tongue planted firmly in my cheek. The main character, Evan, and his best bud, Stan… well, they're a couple of idiots. You gotta love them, but it's hard not to chuckle at their alcohol-fueled antics.
I've mentioned The Thrall of Fate before. It's an ode I wrote in 2009 to commemorate the birthday of one of my literary heroes - Edgar Allan Poe. Poe himself is the main character of the story - but he's a very different Edgar Allan than the one who died in a gutter in 1849 of some strange and terrifying malady. I had to take some liberty with the details of Poe's early life, so consider this an alternate history piece, with a twist and a finale I sincerely hope Poe himself would approve of.
I wrote Killing The Messenger with the sole intention of creating a monster from an unexpected source. And I don't mean like the shit monster Kevin Smith created in Dogma or the meat monster from David Wong's John Dies at The End.
You know, though, as I think about it, Messenger actually has TWO antagonists - one the monster I created, and the other, an amorphous, mysterious other. This other entity is responsible for doing what the title suggests, over an over again. But the visceral effect of my "monster" may be the thing you're more likely to take away from the story. I guess we'll have to wait and see.
Anyway, Killing The Messenger was also partially inspired by the lyrics to a strange song by a musician named Jude, who had a few small hits back in the 90s. On his album No One Is Really Beautiful, there's this song called 'George', and the beginning goes like this:
"George died in the fifth grade/no one ever knew why
He was out selling lemonade/on the Fourth of July, and he died
Sister Claire said that he was/an angel on Earth/She stood there and she told us
She had clearly rehearsed/Every verse/Of the lies that tie you down"
That's it. I'll leave you with that. That ought to keep you until Monday, I think.
On Monday, they're coming to get you.