Sep 7
It's Friday and I think I have all of the Con Crud out of me. I've also had time to organize my thoughts regarding this year's Dragon*Con. I also didn't sleep 'til noon today.
All of that is to say I'm ready to tell you the highlights of Will Kenyon's Dragon*Con 2012.
1) THE CROWDS. I was having breakfast with two good friends (and partners in crime at the Con) Wednesday, when one of them - Eddie - asked if my concerns about the noise and chaos had been justified. I'd expressed some trepidation, you see, about how prohibitive the massive crowds were to getting around, and how the constant noise level could make even a social animal like me look for silence and solitude. Here's my wishy-washy answer, and little factoid for you: Yes, the crowds got on my nerves. But no, not as badly as I anticipated and not as much as last year. You see, this year the Con and the host hotels were much more strict about letting people without badges or hotel room keys into the hotels themselves.
That means there was likely more than 10,000 potential onlookers - people who wandered in off the streets to goggle at the costumes - who were NOT in the walkways, nor crowding the bars, nor taking photo ops in the middle of high traffic areas.
And you could feel the difference. Sure it was still an adventure to cross from the Hilton to the other side of the Marriott Marquis. But you could do it, and in decent enough time, too. (As a side note, the elevator wait times were down, too - less party crashers hitting buttons for every floor.)
My friend Jay, who works for the Hilton, seems to think there were probably less incidents which required a visit from the police, because the "football" crowd couldn't come in. Of course, this reflects poorly, but I think accurately, on a certain type of football fan. (I'm sure you're not that kind of person, dear reader who happens to like American football.)
2. THE DECATUR BOOK FESTIVAL. This is not to say that the crowds didn't get to me. Au contraire. On Saturday morning in particular I had to fight them, and I almost gave up and just went back to the gaming pit. You see, I had decided to go to the Decatur Book Festival that morning to visit my friend Jason Snape and to hear my friend Collin Kelley read. I'd neglected to take into consideration the parade, however. So it was that I found myself a salmon swimming upstream - one guy trying to get AWAY from Dragon*Con while literally THOUSANDS of people were converging ON IT. Add to that the problems MARTA was having (don't get me started on MARTA tonight)….
I got to Decatur an hour and a half later - sweaty, hot, and irritable. I was too late for Collin's reading, so I just hung out with Snape until I was less sweaty and irritable. And until I thought the parade crowds had dispersed back to the suburbs. Then I headed back.
3. GAMES. All in all, I played a lot less games than I usually do. My trip to Decatur took up over half of Saturday, and being tour guide for my friend Eric Sasson took a chunk out of Sunday. And being an old man now, I only stayed up until 3 a.m. one time. ONE TIME.
Unbelievable, I know.
I did get in games of: Runewars, Shogun, 7 Wonders, Dominion, Twilight Imperium, Al Hambra, Dreadfleet (fully painted!), Lord of the Rings LCG, Mage Knight, and Deadwood.
I didn't play (and I wanted to): A Game of Thrones, War of The Ring, Battlestar Galactica, and Descent 2.0.
4) PICTURES. People have requested pictures from me, because Dragon*Con IS an opportunity to see some pretty amazing and amusing costumes. Unfortunately, I'm not much of a picture taker, and after 14 straight years of going to the Con, I'm rarely amazed - not because the costumes aren't still amazing, but that I'm jaded. So I don't take many pics. My friends DO, however, and I'm in the process of combing their Facebook pages for the best ones. I'll compile them, resize them and post them as a gallery in the next couple of days. So look for them. As a teaser, there's one at the top of this post… Avengers Assemble!
Sep 9
Well, the weekend certainly didn't go the way I thought it would.
Ordinarily, when you hear a statement like that, you figure something went wrong. Terribly wrong. But in this case… I THOUGHT the weekend would be fun, tiring, and full. I had no idea it would be so great that it would make the days before seem like a red blur and the days after seem like a gray haze.
On Thursday, I got there with my children - Madeleine and Eli - in tow. The Con had not officially started yet, but all my friends were slowly converging on the downtown Atlanta hotels where everything would take place - the Hyatt, the Sheraton, the Marriott, and the Hilton. In the galleria of the Hilton (downstairs), I met up with my friends Tae and Charlie, and we set up some Heroscape terrain so that Madeleine and Tae's son could wail on each other with painted plastic miniatures and some dice. That went on for a couple of hours, and then my wife Aida came and took the kids home. After that, the place started filling up, and soon I was drinking beer and playing games (specifically RuneWars) as planned. I left at about 1 in the morning, went home, and climbed into bed to charge up for day 2.
Friday consisted of a morning full of logistical movement. If I have any complaints about Dragon*Con and my status as a Dragon*Con volunteer, it's that I have to do all this logistical movement. You see, I supply the Con with a number of games, and before I get to sit down and start playing, I have to haul all my games to the library, check them in, and make sure my checklist matches what's on the shelves.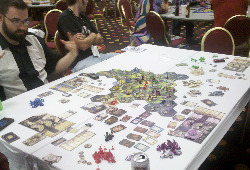 I'd complain, but when I hear horror stories of how long the lines are to get entry badges into the Con, I thank the powers that be and throw another game onto the cart.
The rest of Friday went the way I expected: I played a bunch of games, started making a dent in my cooler of beer, met some new people, had loads of fun with the people I already knew. Then I stumbled upstairs to the room I was going to share with my best bud Jay Elgin, and crashed.
Another part of what I do at Dragon*Con is run these outrageously huge games of Twilight Imperium. On Saturday and Sunday, that's what I was scheduled to do. So at noon Saturday, I laid out the map of the game - you can see Seth Rogen playing it at the top of this post - and laid into 9 or 10 hours of galactic conquest and political negotiation. I'm not gonna bore you with a blow by blow of the game - it bores me a little to think about it in retrospect. In sum: the Muaat player played like a kid hitting a piñata, Seth Rogen played the Xxcha, Kevin didn't win and I did. Oh, and Jay rolled dice like shit.
After the game, I started drinking more beer - THIS time in celebration, not of my victory but of my impending… birthday. That's right, folks. On September 5th, 2010, while attending the largest science fiction and fantasy convention in the United States, I turned 40. And THAT is where the weekend diverged from my expectations.
I only told a handful of people - maybe 20 - that it was my birthday. But between word of mouth and people overhearing other people wishing me well, I couldn't go anywhere in the Hilton without someone lauding my nativity. Now I kinda know how Jesus feels on Christmas. A lot of Saturday night/Sunday morning is a jumble, but I remember singing Silversun Pickups in the Rock Band room. I remember Mike Barnes's entourage following me to the Rock Band room, only to get kicked out because they were drinking. I remember a longish conversation with my buddy Peter about how much we like Dogfish Head - although he likes Palo Santo and I don't. I remember that Jennifer Sellman left her ID at Hooters, and I remember Eddie's truck.
That's about it. All else was a fantastic mish mash of Happy Birthdays, smiles, and costumed maniacs.
Then came Sunday. Again, I stumbled down to set up Twilight Imperium. But then something awesome happened: while I was setting up the game and collecting entry fees, up rolled a cart surrounded by a large group of people. And on top of that cart was a huge birthday cake, baked in the shape of a game of TI. The next thing I know, 60 or 70 people are singing the Happy Birthday song to me while several hundred more look on, all likely wondering what the hell was happening.
Was I A) surprised B) blown away C) touched so much that I had to fight back tears (crying in front of bunch of geeks would be BAD, BAD)?
The answer is D: all of the above.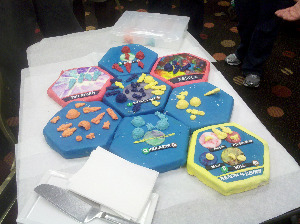 My friends from Americus - Elizabeth, Ray, and Stephanie - made me the best birthday cake I've ever had, and with the help of Jay served it up to me and the Con in a flourish that would make Siegfried and Roy envious. I was and still am without adequate words to describe how I felt that moment, and how I still feel today, even though Dragon*Con is over (until next year!) and even though I'm a little bit sad and a lot sick (the cold Eli gave me is raging still). They say that your 40th birthday is often somehow very special. And I thought mine would be, since I'd be celebrating it during one of my favorite times of the year. But the outpouring of love and generosity and friendship that I received both humbled me greatly and filled me with immense pride. An irony I think you can understand without me going into detail.
So I won't. Instead, I'll end this post with a general thank you to everyone who wished me well on Sunday, and then a little shout out - kind of like the ones you see on the jackets of CD covers - for a few well-deserving, specific people.
To Elizabeth, Ray, Stephanie, and Jay: You made my day. You made my Con. You might have made my year.
To Chris: I know you wanted to sit down with me and enjoy some quiet conversation. I'm sorry it proved impossible, and I promise we'll do it. And yes, you can buy.
To Phil and Omarr: Thanks for all the opportunities. I'll see you guys next year.
To Tae and Charlie: Didn't see you to say good-bye. So, good-bye and I'll see you in January (at the latest).
To Kevin, Jay, Sean, Ray, Steve, Joshua, Garand, Alex, Travis, Jonathan, Allen, Vince, James, and Robert: The game is great, but it's people like you that make me want to play it so much.
To Jerry and Jeff: You frakkin' toasters!
To Peter: You owe me a beer. I think.
To Eddie: Next time, I'm gonna figure out a way to put it in neutral and let it roll backwards a few yards.
To Brian: You never gave me your keys back.
To Jennifer and her friend: Did you see the show? I bailed. Did you get your ID?
To Freitag: The offer is there. You pull an all-nighter, you get in free.
To Aida, Madeleine, and Eli: Someday you'll really share this with me. I look forward to it.
To the Con organizers: Mail the damn badges already. So what if a few get counterfeited? You're making boatloads of money, and one day you're gonna have a fatality in those obscenely long lines. Will it be worth it?
To that fat girl who made the comment about gamers while we were waiting for the elevator: I'm a gamer, and I know why you can't get laid at Con.
To the kid who just walked up and helped himself to a piece of cake: Sure, go ahead.
To anyone I'm forgetting: Thank you, bless you, may the Force be with you, nanoo nanoo, live long and prosper, go forth and multiply.