Dec 21
Early last year I wrote a piece titled "Why I'm Cool With the End of the World." Back then I was ready - things were routine, I was treading water with everything in my life - basically, an apocalypse would have shaken things up and made things interesting again. Why the hell not.
The things I was cool with still hold true - except Obama DID win, and I am a little interested in how his second term rolls out, especially since he's finally showing a little backbone against Boehnhead and the Republican House.
Truth is, though, in these final hours I'm not so sure about it all. You see, 2013 looks very promising for me, and it'd be a fucking shame if we blinked out of existence just as I was hitting my stride and getting off this Godforsaken plateau I've been on.
For your edification (and end of the world enjoyment) here's a quick pictorial of some of the things I might miss out on if Planet Nibiru is for real:

These three stacks are novels. Over the last 12 years, I've written all three of them. The one on the left has moments of brilliance, but needs a major rewrite that I'm not sure I can give it. It was my first - call it an exercise in learning how to write a book. The middle one, The Survivor of San Guillermo, is going to get published in 2013. And the one on the right - The Talented Boys - is better than either of the other two.
Twelve years, I'm finally getting a book published. End of the world. Fuck.

This is an intricate, yet highly enjoyable and immersive board game I designed, which is based on a millions-dollar intellectual property that I can't disclose until the property rights owner agrees to license it. If it gets licensed I'll be ecstatic, because the IP is one I love, that my friends love, and that I believe is worthy of as much respect as Star Wars and Lord of The Rings. Even if we don't get the license, I can adapt the game to a different IP and still have a great and highly publishable game.
Unless the world ends.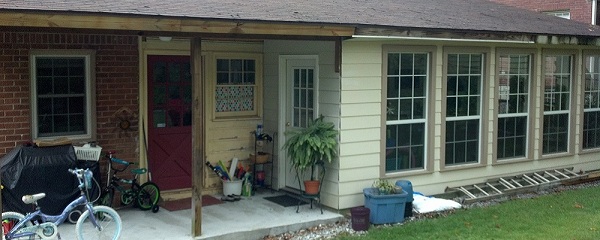 This is the back of my house. About five years ago, I added a new sun room to the back, with a little help from my dad. It was a project several years in the making, because I had to work on it in the nooks and crannies between doing all the other things I do. But it's a great room - and it adds thousands of dollars of value to my home, as well as several hundred square feet. I'm almost finished with it, and then Aida (my wife) and I can start seriously looking into selling our house and upgrading to something even bigger. I'll probably have it done by spring, weather permitting.
Apocalypse permitting.

Finally, there's these two little ones. As sure as I am that they'd get a free trip to Heaven should the apocalypse prove real, and thus avoid the horrors of teenage-dom and adulthood, it'd be a travesty of Earth-shattering proportions. I've invested most of my heart and a lot of effort in making certain these two are happy and wholesome. Having that job cut off before I finished it MIGHT piss me off more than all the other stuff combined.
So yeah. I take back what I said earlier this year. The end of the world can wait.