May 14
Look at the date of this post. Now, look at the date of the post before it. See that lag time? That's too fucking long. You can't have a credible and popular blog site if you start having lag times between posts that are a month or more.
But that's what's started happening here at my Little Corner of the Universe.
Now, you gotta understand – the lag didn't happen because I've lost enthusiasm for this particular aspect of my writing "portfolio". Au contraire – I have ideas for posts all the time; I'm constantly thinking about writing material for you guys, my audience, the loves of my life. For instance: I have another couple of installments of A War Between States. I want to review several book offerings from my friends Collin Kelley, Jay Magidson, and Elaine Burroughs. I have heretofore unvoiced opinions on several games, several movies, and several beers. And don't get me started on this Benghazi nonsense and Congress voting to end the 40-hour work week.
Truth be told, I don't actually even lack new material. You can visit other places around the Web and see my presence there. Check out Scribd.com for some free story samples I posted which somehow became VERY popular. I also have a Facebook page for my novel at https://www.facebook.com/TheSurvivorOfSanGuillermo, as well as a web site for the same book. And I'm on Goodreads and Fictionaut.
Nah. The reason I've slacked on this web site for a couple of months is threefold, and has nothing to do with enthusiasm or lack of material.
First reason is obvious, if you know me: I don't have enough time. Writing new material is time consuming, and I'm generating A LOT of new material these days, just not for this site. My novel, The Survivor of San Guillermo, is on the verge of getting published, and I have to work on editing it hard to make sure that happens. I also designed a board game based on a hot intellectual property, and it's fairly text intensive. A major game publisher has agreed to take it on – IF we can score the license. Finally, fortune dictates that the economy is picking up a bit, so I have client work for the first time in months. When I started this web site about four years ago, my client work was dying off, San Guillermo was in a slough, and the board game was just an idea I had. Now, things are different. And though this web site's content has suffered, I believe all these other changes are good.
That's just the writing-related stuff which occupies my time. There's also the work on my house, getting it ready to sell, and there's dealing with the kids – they're at an age where they require a lot of attention and help.
My next reason for not updating The Little Corner is that staying up to date with my Internet presence takes a toll. These days, unless you're lucky – which I'm not – you have to maintain an almost constant presence on social media and among your target audience. Part of that IS this site, but it's also Twitter, Facebook, Goodreads, and all those other places where you can find me. It's called "micro-blogging" and I'm fairly proficient at it. But it takes time and energy.
The MAIN reason, though, that I've slacked with The Little Corner is way more complicated: it's because my Wordpress overlay is out of date and I want to update it, but I'm scared to. My hosting service assures me that everything I've written is backed up on databases somewhere, and my web savvy friends say chances are updating the Wordpress on my site probably won't cause any problems. But I'm not so sure. Shit's never that easy. I have this sinking feeling that when I update Wordpress, it will create all sorts of compatibility issues, and that all that data simply won't be readable. I envision the site coming out looking like a Microsoft Word doc that's been opened in an incompatible word processing software – the words will be there, but so will a mish mash of odd symbols and wing dings. Things will become a jumbled mess. And I'm fairly certain several pictures will be lost.
Or not. But I'd wager on 50/50 odds.
"Well, Will," you say. "Why don't you just do a back-up of all your content on an external hard drive or something? Then you know you'll still have it all." To that I say YES!!! I believe I will! But… backing up four years of posts on a hard drive takes what, ladies and gentlemen? That's right… time. And it's tedious, repetitive work.
So… enough with the excuses about why my web site has been inactive. Instead, here's where I make a transition and tell you about an exciting plan that stems from all this, and then invite you all to come back regularly to see how far my plan has gotten.
Should the Wordpress update in fact really erase my data or render it unreadable, or even if it doesn't, I think I'm going to use the back-up as an opportunity to review and reboot my content. Here's the thing: I have over FOUR years of material I've written for this site, and some of it is really great stuff. Also, over the years my audience has grown, and a lot of you simply haven't seen some of the fantastically genius posts that appeared on The Little Corner a couple of years ago. It's there – you can go looking right now if you want to. But with a reboot, I can bring it to the fore again, and you won't have to work so hard.
For "old-timers", it'll be like visiting friends you haven't seen in a while. You'll be able to sit back and say, "Oh yeah. I remember that nonsense. Will Kenyon is a big dork."
Of course I'll write new posts, but by reusing some older ones, some of the pressure I put on myself every week to "write something" will be lifted. I see it as a win-win for all of us.
I'll likely start the back-up next week. When THAT'S done, I'll install the Wordpress update. Then we shall see.
Keep coming back. Don't miss anything. M'kay?
Feb 5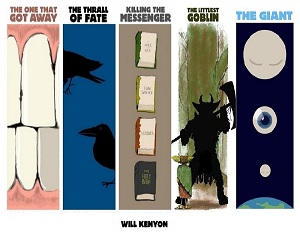 As many of you know, in 2011 I self-published a couple of stories, just to see what would happen. I did it strictly eBook, because eBooks cost nothing except time to produce, and reading books on electronic devices is becoming more and more ubiquitous every year. Soon we'll all have eBooks, and "real" books will be to publishing what vinyl is to recorded music.
Anyway, "what happened" was a I sold a respectable amount of copies - enough to encourage me to do it again, and enough to encourage a small publishing company, Hallowed Waste Press, to throw in with me. About six months later we published another, slightly larger set of stories, and over time that small collection sold about as well as the first.
Sometime last fall, I found out about a document-sharing web site called Scribd.com. And yeah, Scribd has been around a couple of years and for someone who's supposedly as aware of places like Scribd as I am, I was a total idiot for not looking at them earlier. They came to my attention because I was looking for a good place to put teasers up for my upcoming novel, and maybe for my existing stories as well. The guys over at Hallowed Waste said they were going to use the site to tease a story from a new writer they'd just contracted with, and suggested it to me.
I figured why not, and on December 13th put up a free copy of one of my self-published stories, 'The Littlest Goblin'. I tweeted that I'd done so, put a link up on Facebook, and then went and enjoyed my holidays.
When I came back a few days after Christmas, I discovered that 'The Littlest Goblin' had almost 15,000 reads! Curious as to the impact 15,000 free reads on Scribd had on my performance at Amazon and Barnes & Noble, I immediately went over to my reports pages there and saw that indeed, my stories had picked up steam again.
I mean, think about it: the typical literary magazine in America has an average circulation of 1000 to 5000 readers. A "no name" writer like me MIGHT get paid anything from contributor's copies (effectively, nada) to MAYBE $200 for a story, and that story will be seen by 1000 to 5000 people. 'The Littlest Goblin' has already made me around $50 by itself, AND has now supposedly been seen by 15,000 people (actually, though new reads have fallen off, as of today I'm up to 17,000).
To follow up that momentum, I posted another story, 'The Thrall of Fate', my homage to Edgar Allan Poe. Over the last month, though 'Thrall' didn't hit as hard as 'Goblin', it's still garnered 2700 reads, which is still formidable, considering the comparative exposure short stories get.
And to follow up THAT momentum (and maybe cash in, because it's possible), I took both collections that I had previously published and whose sales momentum on Amazon and other sites had slacked, added another previously published story called 'Galahad's Message', and posted all six stories as one collection in Scribd.com's store. Sales of that larger collection have already begun to trickle in, and the number of people sampling it is already pretty impressive.
Ultimately, what I'm trying to say with this post is that I think Scribd.com is an awesome tool for hard-working writers who are willing to take a few risks. The chance of exposure is there if you have something attractive enough to get noticed (which it appears with 'The Littlest Goblin" I did). I'm not saying it's the end all and be all, but it looks pretty good from where I'm sitting.
I'm also saying that 17,000 people can't be wrong: there's probably something worthwhile on Scribd.com written by a certain writer we're all familiar with that MIGHT, just MAYBE, be worth looking into.