Jul 31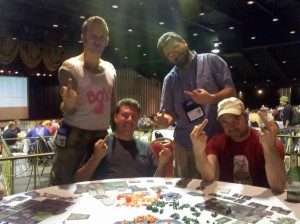 Two years ago I posted a thing about how I suck at vacations. I wrote it right after the family and I got back from an awesome trip to Disneyworld. Well, pretty much everything in that post is still true, and that's why I'm writing this post today.
You see, I'm technically on vacation right now. Two days ago I drove 12 hours north to Lancaster, Pennsylvania, to attend the World Boardgaming Championships. While I'm here doing what I LOVE doing, the kids and my wife are headed to the beach (we don't actually have time this busy summer to vacation together - don't say anything; we know it's fucked up). I may or may not join them when I head back south - depends on how I feel. You know what I mean: it depends on whether I'm completely exhausted or not.
I'm having a fucking blast. I'm drinking great beer all day long that I bought from my buddy Eddie's Ale Yeah! shop in Roswell, and I'm playing Twilight Imperium and a whole host of other games with Michael Buccheri, Matt Loter, Josh Look, Shellie and Al Rose, Bernie Frick, Wilson Knight, Rob Buccheri, Andy Waller, and a whole bunch of other people (you can see a few of them in the picture at the top.
Still, right this minute, I'm sitting at a Starbucks down the street from the host hotel, parked in front of my computer and logging time BECAUSE IF I DON'T DO THIS NOW I'll be stressed out the rest of the week, beer and games and friends be damned. That's how I am. I can't help it. And it's funny that all I have to do is write a short bit about writing a short bit, and I feel better.
There. I feel better.
Nov 13
I gotta post something, right? I gotta keep fresh material coming at you or else you'll go elsewhere for your thrice weekly dose of "cussin'" and poetry and drunken diatribes. So here's a post - and this one's just a sort of update on something really cool that's happening in Kenyon world.
You don't know this (well, some of you do), but I've written 2 novels and 2 pieces of 2 more. One novel - King of Karma - though it has good parts in it, is on the whole unpublishable - a learning experience from years back. Another novel - San Guillermo - is complete, but it's part of a growing narrative that I'll work on, I promise, once I publish a "standalone". You guys are reading and listening to one of the unfinished novels - A War Between States, which by the way I should have another installent of next week.
Which brings us to the unfinished work with the working title Hood. Right now, I'm exactly 6 chapters away from finishing Hood, and so you gotta understand: finishing that book, which has taken me 4 years to write (having kids slowed me down, plus I sort of got "lost" in it for a while), is PRIORITY NUMBER ONE. I like what I'm doing with this site, but if I don't finish this novel - whether I get it published or not - I don't think I'll ever be able to write a novel again. And that would be a blow to me as a writer.
So bear with me. There's still a lot of material out there for me to present to you - it's just gonna come in dribs and drabs over the next 2 or 3 weeks while I burn up the final pages of this book.
And if you wanna read the book after it's finished, that can be arranged.
Oh, and if you're an agent or publisher and you're interested in an "Urban Horror Fantasy" and you like what you see at this site and think my style might translate well to that sort of thing, drop me a line.
Heh.